This Week at ERP
We are closed, but will be back the following weekend with more bracket racing and testing available.
---
Message for the racers of ERP from the manager
The challenges of running a race track have been harder this year than any year I have be doing it since I became an owner in 2006. The extreme temps we have had to deal with certainly have added to the problem but that is not the only one. We have had to deal with some major cost issues such a treating 20 of our trees in an effort to save them but unfortunately we will have to cut down 12 more trees in the near future. Some expenses have been self inflicted (grass problems) others are just out of our control. We continue to do improvements for parking etc. as we feel these are necessary for our future.
Last year we had less competitors in our Street and Super ET classes and this year that has only gotten worse. There is no answer that everyone will be happy with but we have made the decision to combine these 2 classes effective immediately. The new class will be called Footbrake. Rules for the new class will be quite simple: No trans brakes, street bikes will be allowed with no wheelie bars or full slider clutches, no ET limits. Entry fees and payouts will be the same as Super ET is now. Those that entered points in either class will have their points transferred to the new class, anyone that entered both will have to drop one of them and will be refunded their points fund sign up fee. We would hope we can get this class to have at least 15 or more entries on a regular basis which makes it a lot more interesting and competitive. We have one associate points sponsor already (Centerville Body Shop) and are looking for more to increase the payout at the banquet.
These 2 classes are not the only areas of concern as we continue to deal with low car counts on non points weekends as well as events like the Nostalgia and No Box Nationals an event that should be a good one but will go away if we can`t get more cars to it. I also know we are not the only track dealing with these issues. Again the weather has not been our friend this year and the weather man continues to be our enemy as they always focus on the negative and people stay away because of them.
As always feel free to contact me with any comments or ideas you have by emailing me at: manager@eddyvilleraceway.com call or text at: 641-780-3534, or message me on Facebook.
Thanks Gerald Kramer
---
Eddyville Raceway Park
Memorial Day Weekend
May 25-27 2018
32 car shootout on Friday night. (Pre entry required)
Midwest Pro Outlaw class (Saturday only with Sunday rain date)
Top, & Modified, class's points race on Saturday & Sunday, big buck entry fees and payouts. (See ERP website for details) (Sat. & Sun.)
Advance Transmission Top Sportsman/Top Dragster Series (Sat. & Sun.)
Super Street Association (6.90 index class on Sat. & Sun.)
Eddyville Stick Shift class (Sat. only, Sun. rain date)
Street ET and Super ET class Sat. & Sun. regular points races.
Trick Tools Jr Dragster Sat. & Sun. regular points race.
R/J Performance Street Bike series both days. (Bracket class, 6.00 index class and Quick 8 race)
Teen Championship Racing (TCR) (Sat. only)
Trophy Car class (Sat. only)
Pit vehicle races Sat. eve at end of races. (Time permitting)
Schedule:
Friday - Open at 5pm for parking, T&T 6pm to 10pm.
Saturday - Open at 9:00 am, Time Trials at 11 am (2) (RTC if time permits), Sportsman eliminations follow.
Sunday - Open at 8am, Time Trials at 9:30 am (1), Elimination follow, (rain date for Saturday`s race)
Spectator ticket prices:
Friday - Adults (13 & Up) $10
Saturday & Sunday -  Adults (13 & Up) $15
Kids Free Both Days!
---
Fun Drags and Bike Double Header Special
Saturday, May 19
Gates open: 11am, Time Trials (2) @ 1pm
Crew and spectator passes are $10 for all day.
Classes to run:
Sweet Corn Outlaws
Bike only classes - Box, No Box, 6.00 & 5.60 index classes
Regular Fun Day non points classes: Box, No Box, Footbrake, Jr Dragster
We will run all classes up to finals in largest classes, do 1 time trial for those not still in competition then do the 2nd race. All bike classes will run 2 races, car classes will run 2 if there is interest in doing so.
Entry fees:
All bike classes and Sweet Corn Outlaws will pay $25 for each class and race entered at the gate, go through tech then pay remainder of entry at Sweet Corn Outlaw trailer (Greg Allen) or Bike trailer (Dave Easter)
All regular Fun Day entries will be handled as usual at the gate. (Box $75, No Box and Foot brake $40, Jrs $25, Test and Tune $30
Payouts:
Bikes - Index classes, 100 % of entry fees.
Box & No Box - $750 to winner gauranteed, total payout determined by entries.
There will be a run off of the 4 class winners with $250 to winner.
Sweet Corn Outlaws determined by # of entries, by Sweet Corn Outlaws group.
Regular non points classes:
Jr Dragster - Trophy to Winner and Runner Up (with 8 or more entries $50 Win, $25 R. U.)
Footbrake - $200 win, $100 R.U. (10 car minimum for full payout)
No Box - $500 win, $200 r.u., $100 semis (20 car minimum for full payout)
Box - $1000 win, $400 r.u., $100 semis, (20 car minimum for full payout)
---
ERP is looking for sponsor support for the following:
Make a Wish Charity race on May 12. This is a 2nd year event to support an a great charity, last year we raised over $8000.
Title sponsor for 2 of our weekly bracket race classes (18 races in 2018) Street ET and Super ET.
If your company or if you know of a company that might be interested in either of these please contact Gerald @ manager@eddyvilleraceway.com or call or text him @ 641-789-3534
---
Attention Racers
Chassis certs will be done at the track on April 21st. We do these by appointment so there are no long lines. If you need one please email Gerald at: manager@eddyvilleraceway.com or text him at 641-780-3534. If you have questions contact Gerald at those contacts.
Reserved Pit space renewals are past due, please send in your renewals in by April 1st as we have persons looking for spaces.
We are doing a track promotion at the mall in Oskaloosa on Sunday afternoon April 8 and we are looking for a race car to put in the display. This show is promoting all recreation options in the Oskaloosa area. Please contact Gerald if you are able to help us out.
---
Top Points Finishers in 10 Classes to be Honored
at ERP`s Awards Banquet on March 3.
$20,000 will be paid out to the following:
Karl Performance Top ET will pay out to the top 10 in points

Karl Performance Modified will payout to the top 10 in points

Super ET will payout to the top 5 in points

S.E. Iowa NAPA Street ET will payout to the top 4 in points

Trick Tools Jr Dragster will payout to the top 10 in points

Advanced Transmission Top Sportsman and Top Dragster will payout to the top 3 in points

Quick Performance Midwest Pro Outlaw will payout to the top 6 in points

R/J Performance Street Bike will payout to the top 5 in points

Teen Championship Racing will payout to the top 4 in points

Advanced Transmission Track Champion will get cash, Gold Card, and Champion jacket
All of the class winners and runner ups get trophies and winners receive a champions jacket.
Special recognition goes to the points series sponsors, without them the above awards would not be possible. Whenever possible thank them and do business with them.
Other awards will be given to:
Best Appearing car and Jr Dragster
Best Engineered car
Sportsman of the year award
Hard Luck award
All Star employee
Rookie of the year in Jrs and big car classes
Eddy Award
Deadline for reservations to the banquet is Feb. 26. Mail your ticket requests to ERP 2457 Hwy 163 Pella Ia. 50219, Questions can be emailed to manager@eddyvilleraceway.com or text or call Gerald @ 641-780-3534.
---
Eddyville Raceway Park 2017 Awards Banquet
When: March 3, 2018
Where:
Great Caterers of Iowa, Assembly Hall, 1250 NE 56th St., Pleasant Hill Ia. 50327.
Schedule:
Doors open @ 4.30pm, social hour w/cash bar 4.30-6pm, buffet @ 6pm, Awards presentation, special recognitions and video presentations @ 7pm.
Tickets:
Must be ordered by sending a check to Eddyville Raceway Park 2457 Hwy 163 Pella, Ia. 50219. Call or email Gerald with any questions at 641-780-3534 or email to manager@eddyvilleraceway.com.
Prices for tickets:
Adults $25.00, kids 7-12 $12.00, kids 6 and under free.
Event Hotel:
Sleep Inn & Suites, 5850 Morning Star Ct. Pleasant Hill Ia. 50327, 515-299-9922, check with them for special ERP rate of $87.00 for 2 persons.
We will be honoring the top points finishers in Top ET, Modified ET, Super ET, Street ET, Jr Dragster Advanced, Teen Championship Racing, Street Bike, Midwest Pro Outlaw, & Top Sportsman/ Top Dragster classes.
We are looking for nominations for the following awards:
Best appearing car,
Best appearing Jr Dragster,
Rookie of the year (Bracket racer),
Rookie of the year Jr Dragster,
Hard luck award,
Best engineered award,
Sportsman of the year,
Any other award you think someone deserves.
Also if you have a funny story of something that happened at the track in 2016 and would like to share it please let Gerald know.
Important Deadlines:
Nominations for awards need to be received by Feb. 10, reservations at hotel must be made by Feb. 19, banquet reservations must be made with ERP by Feb. 26, (all tickets will be held at the door)
---
Looking back at the last 12 years
at Eddyville Raceway Park
13 years ago I was talking with Scott Gardner about the sale of ERP by Carl Moyer. I was hoping Scott would buy it and I would help run the track. Scott insisted that I needed to be involved with the ownership and this was the start of something I had never dreamed of. I had been involved as a racer and working at the track at different times and levels but never thought of owning the track. Then a few years ago when Scott was moving on to run the IHRA I bought out his ½ and I and my wife became the sole owners.
The last 12 years have been the most rewarding thing I have ever done but also sometimes very stressful. ERP has an amazing history, sponsors, racers, and the employees have been so great to work with. Last year it was so neat to bring on my son Kyle to a full time position at the track as he is just as passionate about the sport as I am. We have taken an already great facility and done a lot of things that needed to be done to keep the facility up to the level everyone expects from a race track such as resurfacing the track and shutdown along with a whole bunch of smaller items that are always needed. I still have many other items on my bucket list to keep moving this place forward. The biggest challenges with running a race track are the weather and the finances which are directly affected by the weather plus lots of other factors. Our two big events have become great events and our bracket programs for the most part have grown, the no prep events have been a great addition to our schedule, and most everything is moving forward. The biggest challenge has been on the financial end of things some of which has been self-inflicted by doing the major improvements, but also by the continued increases in operating expenses such as utilities, insurance, etc. Overall things are doing well but there is always room for improvement.
Looking forward to the future of Eddyville Raceway Park
I turned 65 this past year and have no interest in retiring but am ready to reduce my work load and having the sole financial responsibility. I have decided that I will offer the track for sale or bring in a potential investor but only under certain terms which includes keeping the dedicated staff (including myself) and that the person would have to share my goals for the future of the track, and have a desire to continue doing improvements to the facility. I have no interest in selling or adding an investor if these goals do not match up as we have a growing business that shows continued promise that I will not jeopardize.  I also understand there are areas that certainly could be improved upon and would be open minded to work with some new ideas.
We are working on several improvement projects this fall and have several others planned for next spring which will go on regardless of what happens. For 2018 we will be instituting a modest increase in entry fees probably $5 for most classes, to help cover all of the increases in costs to operate the track. I don`t think these have changed for more than 12 years.
We are also currently working on the schedule for 2018 so if you have any input for us about the schedule, the entry fees, or interested in talking about being an investor or in purchase of the facility please contact me at manager@eddyvilleraceway.com, call or text me @ 641-780-3534, or come and visit with me at my shop in Pella (call to see if I am around)
Potential investors or buyers may also contact Scott Gardner at office@GardnerRTC.com as Scott will be assisting me in this matter. I look forward to being involved in Eddyville Raceway Park for a many years to come in one capacity or another.
Thanks,
Gerald Kramer
---
Cold weather forces cancellation of
IHRA Jr Dragster Halloween Nationals
With every weather forecast calling for low temperatures of 30 or less and highs of only mid 40`s we have decided that this event will not be held for 2017. This is very disappointing for us and many racers but I am sure a decision anyone watching the weather forecasts was expecting. Thanks to all of the sponsors of the event for their support. We will put the trophies in storage for 2018! Thanks everyone for your support!
---
IHRA Midwest Jr Dragster Halloween Nationals
@ Eddyville Raceway Park
Open to All Junior Racers!
Crew passes: Adults, Fri. $8, Sat. $12, Sun. $12, 3 day pass $25
Kids 12 and under Free.
Schedule:
Friday - Open 3pm, Time Trials 5pm, Gamblers Race 7pm.

Saturday - Open 8am, Time Trials 10am (2 per class) Reaction Time Contest (optional), Eliminations follow.

Sunday - Open 8am, Time Trials 9am (2 per class) Eliminations Follow.
Classes:
Saturday - 4 age group classes 7-9 y/o, 10-11 y/o, 12-14 y/o, 15-17 y/o
(IHRA Iron Man trophies to the winners of the 4 age group winners.)

Free consi race for all 1st round. non winners.

4 age group winners run off for the Co-Line King of the track trophy and $500 cash

Saturday Evening Fun Races - Turtle Race, Parent Race, and a new fun event to be announced !

Sunday - 7.90 , 8.90 & 11.90  index classes (.500 pro tree) (2)  bracket classes (1 on a regular tree and a new one that will pay $500 to win thanks to Laffoon and Co. that will be on a .500 pro tree !!!!          
Entry fees:
Friday Test and Tune $20, Additional $20 for Gamblers Race
Saturday evening fun classes, $10,
Saturday Age Groups & Sunday classes, $35 car and driver per class.
Payouts:
(for all age groups, and Sun. classes) (payouts in cash to parents)
Less than 10 entries - Winner  $50, R.U. $25
10-19 entries - Winner $100 R.U.  $ 50  Semis  $ 25
20 plus entries - Winner $ 200 R.U. $ 100  Semis $ 50
Friday Gambler race - Winner—40% of entry fees, R.U.---20% of entry fees.
Reaction time contest, and turtle race winners receive 50% of entry fees.
Parent race: winners and runner ups receive trophies and bragging rights.

Costume contests for kids, adults, and pets, plus trailer decorating contest on Saturday night sponsored by Baarda Truck and Equipment.
Trophies: IHRA Ironman trophies to 4 age group winners
Trophies to all class winners, runner ups, and semi finalists
Contacts: Track manger, 641-780-3534 or email at manager@eddyvilleraceway.com
Track  physical address: 3260 Merino Ave. Oskaloosa Iowa 52577
Misc. If we have rain on Saturday, we will run IHRA age group classes on Sat. evening or Sunday as needed .
Free camping, with showers.

Limited number of reserved parking spaces with electric hook ups available for $50 for the weekend.
(Reservations for pit spaces by email only !!!)
Email Gerald starting Sept. 20 at manager@eddyvilleraceway.com.
---
Weather Forces Changes to This Weekend's Race Schedule
With lots of rain forecast for Friday night and light rain forecast to continue into mid-day Saturday with cool temps that would make drying the track challenging and with a high risk of cool damp weather making night time racing risky we have decided to cancel all racing scheduled for this Saturday October 7.
Sunday`s race (Great weather forecast!) will be run as scheduled with gates opening at 8am and time trials at 9.30am. This will be a great final day of racing with many exciting classes running. We will run the Midwest Pro Outlaw and Street Car Challenge classes scheduled for Saturday plus the heads up no bar bike series, 6.00 & 5.60 index classes for bikes, the Sweet Corn Outlaw class, an all run Jr Dragster class, Footbrake class, $2000 to win Box class, $1000 to win No Box class plus an awesome 2 out of 3 Pro Street Bike match race!
Admission for this is great show is $15, come and join the ERP racing family for this last event for all big car and bike classes for 2017! Racers are welcome to come in Saturday for parking and hang out with your friends. We have been very lucky with the weather all season with our last rainout being June 16! Guess our luck finally ran out but at least our grass is green again!
---
Labor Day Weekend
Big Buck Races
Points Championship Weekend
Advance Transmission Track Championship
Sept. 1-3, 2017
Friday - Gates open @ 5pm, Test & Tune 6.30pm to 9.30pm.
Saturday - Gates open @ 8am, time trials @ 10am.
Sunday - Gates open @ 8am, time trial (1) @9.30am.
Big Buck entry and payouts in Top, & Modified. (Sat. & Sun.) 
Super, Street ET & Jr Dragster classes. (Sat. & Sun.)
Midwest Pro Outlaw Eliminator on Saturday. (Rain Date Sun.)
Eddyville Stick Shift class on Saturday.
Advanced Transmission Top Sportsman/Top Dragster (Sat. & Sun.)
Advance Transmission Track Champion run off on Sunday. (Run off of class champions in Top, Modified, Super, and Street.)
Pit vehicle races Sat. eve at end of races. (Time permitting)
---
32 Car Shootout at ERP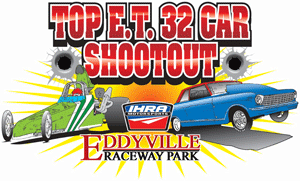 The 32 car shootout is now open! All Top ET rules apply for this including 7.49 or faster dial in
Friday, August 4
$130 dollar entry
32 cars will pay $2,000 winner & $1,200 runner-up
Due to issues with PayPal please message erpnoprep@gmail.com if you are going to participate and if you want to pay at the gate or via PayPal.
---
Big Buck Top ET Bracket Bash
Dates: Saturday and Sunday, August 5 & 6, 2017.
Points races on both days for Top, Mod., Super,  Street, & Jr Dragsters
Regular entry fees and payouts for Mod., Super, Street, and Jrs.
Other classes running this weekend: Midwest Pro Outlaw Eliminator, TCR, and Powder Puff. (Sat. with Sun. rain date only) (MPO qualifing @ 5 & 7, Finals @ 9pm)
Pit Vehicle race Saturday at end of event time permitting.
Top ET Entry Fee: $130 for one day, $250 for 2 day (1st rd. buy backs $50)
Top ET Payouts: Winner $3000, R.U. $1000,  Semi`s $300,  $75 per round won starting with round 3 win up to semi finals.
(40 car minimum for full payout)
Sponsor: Advance Transmission Knoxville Iowa
Friday Fun Night - Test and Tune 6.30 to 9.30 plus $2000 to win 32 car shootout.
Saturday gates open at 11am, time trials at 1pm
Sunday gates open at 8am, time trial (1) at 9am
Spectators $10 Friday, $15 Saturday, $12 Sunday
---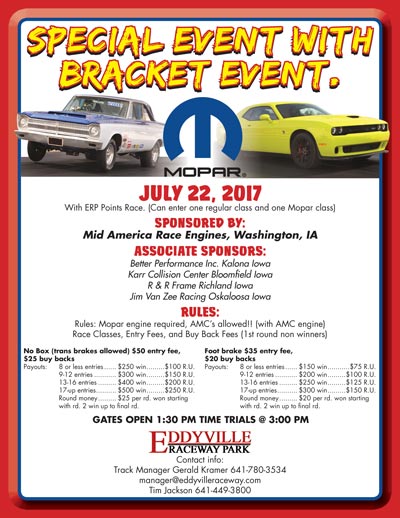 ---
32 Car Shootout at ERP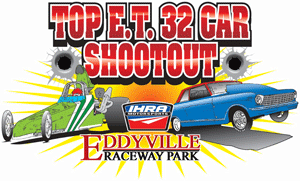 The 32 car shootout is now open! All Top ET rules apply for this including 7.49 or faster dial in
Friday, May 26
-$130 dollar entry
-32 cars will pay $2,000 winner, $1,200 runner-up
- If you want to be apart of the 32 cars you MUST EMAIL kyle.eddyville@gmail.com
- When you send the email include first/ last name, how you would like to pay(cash, check, Paypal). If paying via paypal include email you want an invoice sent to.
- You can pay at the track the next 2 weekends
- Payments must be received by May 23!
- If you for some reason cannot make it please let Kyle know ASAP
-Will be taking 5 alternates in case of dropouts. Alternates if used will need to pay at the gate if money is not received before Friday May 26.
We want to thank the races that gave us the idea and helped us build this.
---
 Make-A-Wish Day at Eddyville Raceway Park

On Saturday, May 13 Eddyville Raceway Park is proud to sponsor a Make-A-Wish day at the track. On that day all of the special Test-n-Tune fees along with ½ of the special spectator gate fees will go towards the Make-A-Wish Foundation. "ERP is the home track of Tommy Johnson Jr the driver of the Make-A-Wish sponsored Nitro Funny Car and we are glad to help with such a great cause" stated track manager Gerald Kramer.
Saturday, May 13 - Make-A-Wish Day
Track will open at 9:00am
Open Test-n-Tune 10:00am – 2:30pm
Session Time Trials @ 3:00pm (test and tune included)
Eliminations @ 6:00pm (approximately).
Spectator fee will be $15.00 (50% goes to Make-A-Wish)
Special rate for test and tune - $50.00 (100 % goes to Make-A-Wish)
All other entries will be standard fees.
Also, on that day, we are expecting several pro cars and bikes to be testing so we hope everyone comes out to help us support this cause and enjoy a great day of racing. We would also like to thank Jeff Huber for all his help in getting this event going.
For more information on the Make-A-Wish Foundation please visit their website at http://iowa.wish.org/ .
---
Attention Street ET Racers!
For 2017 we will enforce the rule on requiring street legal tires in this class. When we switched from NHRA a couple of years ago which allowed drag slicks in the sportsman class we stated we would allow them for a while even though the rules for IHRA ET Finals requires street legal tires. We feel it is time to align our rules with those of IHRA for the ET Finals and enforce it.
Clarification of Street Tire Rule for Street ET
Street legal tire means it has a DOT stamp on the tire, this applies to our Fast Four classes on our Midnight Madness events, and our Street Car Challenge class as well. Hope this clears up some confusion of what street legal tire means.
---
Teen Championship Racing
IHRA has a program that allows teenagers 13 to 17 years old to compete against each other in street legal cars and trucks. This is a very inexpensive way for families to get involved in drag racing and a chance for parents to cultivate a close working relationship with their children. A co-driver will ride with the teen competitors on all runs to coach the driver and join in the fun. TCR competitors will receive an IHRA competition license, and medical insurance coverage. The racing will be in a bracket race format and the car/truck must run 10 seconds or slower in the 1/8th mile. Competitors can also compete in the Jr Dragster class but not any other class.
We will run this class on select Saturday nights and it will replace the High School class in 2017. Cost to enter is just $10 and we will have trophies to the winner and runner up. License forms are available at the track or can be downloaded from our website or the IHRA website. Call or email Gerald with any questions at 641-780-3534 or manager@eddyvilleraceway.com.
Dates for 2017:
May 13, 27, June 3, 24, July 22, 29, August 5, September 2.
ERP is looking for a title sponsor for the TCR class. Cost is $1000.
This would allow us to have money for a points fund for the kids competing in the class and the sponsor would receive a ticket package for various events at ERP. Call Gerald at 641-780-3534 or email him at manager@eddyvilleraceway.com if interested or with questions.
---
Engine Diaper Rule at ERP
Starting in 2017 ERP an oil containment system will be required for race cars. This is something a lot of race tracks have already put in place or will do so in the near future. This will not only help save costly and time consuming oil downs but more importantly could very easily save your race car and your health or even life in case of catastophic engine failure. This is the most common sense rule for drag racing in a long time. Here is the rule we will start using for the 2017 race season:
All cars running 6.99 seconds and quicker will be required to have an approved engine diaper or engine oil containment pan. The following are exceptions to the rule: True street cars with street tires and bikes will be exempt at this time.
Diapers are available from several sources. Dennis Ridgeway Enterprises (DRE) is one source that is offering a 10% discount to ERP racers. They have standard diapers that fit some applications from $169.00 to full custom ones for up to $550.00. They are supporting the track with a sign and will have some giveaways and coupons for their products. They can be reached by phone @ 217-763-6352 or email dennis@enginediapers.com.
---
ERP Gift Certificates
Gift certificates are available for Christmas. They can be for any amount and can be used for any purpose at ERP in 2017. Please email any requests to manager@eddyvilleraceway.com.
---
New Top and Mod Points Series Sponsor for 2017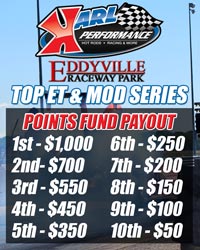 ERP is pleased to announce Karl Performance as the points series sponsor for our Top and Mod classes for 2017. The payouts for these 2 classes to be paid out at the 2017 awards banquet are listed below. Thanks to Karl Performance for this commitment to support the racers at ERP and racers please support Karl Performance whenever you need anything for your race car.
---
ERP Track Rentals
Eddyville Raceway Park has days available to rent the facility for many types of usage including the use of the drag strip or for other functions that could make use of the rest of the facility but not the race track. Now is the time to set these up before all of our events are planned. Events using the track in most cases will be on a Friday night, Saturday or Sunday.
If you or a company wants to put on any type of outdoor event that might work at the track or if you would like to be a promoter of some type of race event please contact Gerald to discuss the possibilities. Price to do this will vary widely depending on the type of event you are considering.
Here is a list of some ideas on types of events that could utilize the track and facilities. They include but are certainly not limited to:
Swap Meet
Flee market
Concert
Car Show
Autocross
R/C Car & Plane Events
Special race events for company employees / customers
Special interest drag race event
We also can put together special packages for family reunions, car clubs, or company outings to the race track during any of our scheduled events both regular race days or on our bigger events. If interested in any of these please email Gerald at manager@eddyvilleraceway.com or call him at 641-780-3534.