Goldy's Auto Owner Greg Goldizen Passes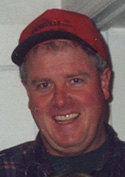 OTTUMWA-Greg L. Goldizen, 50, of 3362 Lake Rd., died at 4:07 p.m. November 20, 2014 at Ottumwa Regional Health Center.
He was born on February 28, 1964 in Ottumwa to Reid V. and Betty L. Melvin Goldizen.
Greg was a 1982 graduate of Ottumwa High School and a graduate of the Indian Hills Community College Diesel Mechanic program. He worked at Alliant Energy Ottumwa Generating Station for 12 years, and owned and operated Goldy's Auto. He was passionate about collecting cars and drag racing.
Surviving is his wife, Stacy Waller; four children, Danielle Goldizen, Michael Mahaffey, Josie Goldizen and Jordyn Goldizen all of Ottumwa; his mother, Betty Goldizen of Ottumwa; his siblings, Becky (Rick) Stoneking of Davenport, Gary (Barbara) Goldizen of Urbandale and Linda (Alan) Bettis of Blakesburg; father-in-law, Larry Waller of Ottumwa.
He was preceded in death by his father, Reid Goldizen; mother-in-law, Betty Lou Waller and grandparents.
Funeral services will be 1 p.m. Monday at Reece Funeral Home with Pastor Mark Eigsti officiating. Burial will be in Shaul Cemetery.
Visitation begins at 10 a.m. Sunday with the family present from 1 to 4 p.m. Sunday.
In lieu of flowers, memorials may be made to the family for his children's education.