A Note to Racers and Fans...
We realize that the announcements that came out last Thursday caught everyone by surprise. Some people have been very upset by the change to IHRA and we fully understand some of the concerns. Many of these concerns will be addressed this week as we get answers to these questions. Details will be posted on our website and Facebook site about memberships, licenses, certifications, ET Finals, special events available to us, etc. I have spent a lot of time on the IHRA website researching programs available and the rule book and I like what I see and I think our racers will as well. I really like what I see for the Jrs as they can go to the ET Finals and our Jr track champion can compete for a national championship!
As far as weekly programs we see very few changes only name changes for our bracket classes. Scott remains on as a partner and will still have some time to spend on ERP business. From what I see many rules are more relaxed than with NHRA (Chassis certs start at 6.00 sec. and faster as an example) IHRA has a reputation of being a very racer friendly organization and that will only get better with Scott in charge. Feel free to contact me with any question, email is best but will take phone calls if I can answer them as I will be working a part time job this week.
Thanks Gerald Kramer (Manager@eddyvilleraceway.com) (641-780-3534)
---
SCOTT GARDNER NAMED PRESIDENT OF INTERNATIONAL HOT ROD ASSOCIATION
IRG Sports + Entertainment to acquire Cordova Dragway Park, Host of the Nitro Jam Drag Racing Series in 2014
JUPITER, FL – November 14, 2013 – IRG Sports + Entertainment™ (IRG), parent company of the International Hot Rod Association™ (IHRA) and multiple motorsports facilities, announced today that Aaron Polburn has stepped down as President and General Manager of the IHRA and Scott
Gardner, the longtime owner and promoter of Cordova Dragway Park (CDP), has been named the new President effective today. Polburn, who had been at the helm of IHRA since 2004, has stepped down for personal reasons and will transition the company to Gardner over the next two weeks. Gardner will lead the IHRA team based out of the current Norwalk, Ohio office.
Cordova Dragway Park, home of the World Series of Drag Racing and previously the host of Nitro Jam events, will return as an IHRA-sanctioned Member Track. Gardner will pass the day-to-day management of CDP to his wife and Vice President of CDP, Laura Gardner and Chris McMahan, Director of Operations. CDP will host a newly added 12th event weekend on the Nitro Jam Drag Racing Series™ (NJDRS) 2014 North American Tour. The IHRA recently announced that the NJDRS 2014 North American Tour will feature a number of enhancements for the upcoming racing season including the addition of a national points fund, the return of traditional drag racing, a new Fan Zone pit experience and more.
As Gardner moves from CDP to lead the IHRA, IRG will acquire CDP as part of its portfolio of motorsports facilities and take over the management at the end of the 2014 season. Also under Gardner's co-ownership, Eddyville Raceway Park in Oskaloosa, Iowa, and Cedar Falls Raceway in Cedar Falls, Iowa, will become IHRA-sanctioned Member Tracks. With the addition of these three Member Tracks, the IHRA now sanctions 112 facilities in five countries.
"It's a great honor and a huge responsibility to take over the position of President of the IHRA," noted Gardner. "The IHRA brand is something I have always felt was a viable drag racing organization. I am confident I can bring new ideas and renewed energy to the table, while staying true to the sportsman racing at the core of the organization."
---
Thank You
From all of us at ERP we want to thank all of the racers and fans that supported the track this year. In spite of tough economic times and some bad weather issues in May and June we are fortunate to have had a pretty successful season. Our big events (Night of Fire and World Fuel Altered Nationals) were the best ones we have ever had along with some other very good events. We certainly had some disappointing events and are working on plans to change some events and classes to improve them. As always we would love to have feed back on things you think we are doing right and also ideas to improve things we are now doing or ideas for new things you think might be a good fit for our track. We will consider all suggestions and ideas.
We are working on some improvements at the track as time and money permits this fall and next spring. We would like to know what you would like to see for improvements as well. Please email Gerald at manager@eddyvilleraceway.com with any issues or call him at 641-780-3534. Our awards banquet will be on March 8 at the same location in Pleasant Hill as the last few years. You can also send Gerald ideas for special awards that you have for the banquet.
Have a great off season. Gerald Kramer and Scott Gardner
---
BIG FALL WEEKEND OF RACING
SEPTEMBER 27-29 AT ERP
Fall is a busy time at Eddyville Raceway Park and Friday through Sunday, Sept 27-29 is no exception. The weekend begins with a Friday Fun Night (Friday Sept. 27) followed by the Final Midnight Madness event of the season from 10pm-1am.
On Saturday, September 28 it's the Muscle Car Nationals Car Show plus we will have drag racing starting at 1 PM.  Basic Drag Race school for beginners @ 12.45 pm on the starting line. Plus Test and Tune for anyone
($25)  All of our street bike series classes (bracket, 6.10 & 5.80 index
classes) and a no box gamblers race with a $45.00 entry fee ($20 buy backs with a 80% pay out). No reserved parking spaces this weekend for our regular racers.
Admission to the track for spectators only $5.00!
Then on Sunday September 29 it's the R/J Performance Day, Gates open 9am, time trials at 11am. Same race classes as Saturday (Test and Tune, street bike classes, and no box gambler race) plus spectator admission is Free!
---
CHANGES ANNOUNCED FOR DOOR CAR MANIA SHOOTOUT NOSTALGIA PRO STOCKS & WHEELIE CARS TO APPEAR
Eddyville Raceway Park officials announced today that the Door Car Mania feature show scheduled for this Saturday, September 21 will not have Pro Mods attending as originally scheduled. "Many of the cars we had scheduled to attend had breakage or other issues" explained Manager Gerald Kramer.
However, the Nostalgia Pro Stocks (Warren Johnson Tribute Car and Rod Shop Dodge) along with the Wheelie Cars will be in attendance as originally planned. As a benefit for the fans, Eddyville Raceway Park will only charge the regular admission fee of $12 to attend the event.
Please join us for some great racing that also includes Top Sportsman, 10.5" Tire Challenge Cars and more.
---
Fall Door Car Mania Shootout
@ Eddyville Raceway Park
Friday/ Saturday/ Sunday Sept. 20, 21, 22
Pro Mods, Nostalgia Pro Stocks, Wheelie Cars
Schedule:
Friday - Gates open 5pm, test & tune 6pm-9.30 pm

Saturday - Gates open 8 am, time trials (2) @ 10 am, elims. follow

Sunday - Gates open 8am, T.T. 9:30, (1)  elims follow
Classes:
Quick Performance 10.5 tire class (Sat.) 
Super Street (6.90 index class) (Sat. & Sun.)
T/S T/D (Sat. & Sun.)
Pro Bike (Sat. & Sun.)
Pro, S/P, Sportsman, Jrs. (Sat. & Sun.)
Spectator fees: Friday $8, Saturday $15, Sunday $12
Entry Fees and payouts: Regular fees and payouts in bracket classes.
---
Attention: Casey's Stick Shifter Racers
We had 2 races for this class rained out early this year and have decided to not make them up. Instead for the remaining race dates we will reduce the entry fee for the class to $75 (down from $100) and add $1000 to the end of season points fund. This is possible because of the great sponsorship package we have for this class.
---
ERP Announces Our Biggest Motorcycle
Racing Program Ever!
Pro Bike will be the only points class which will determine which bike racers qualify for the ET Finals in Topeka. The schedule has 10 races all on 2 day weekends. New for 2013 will be a non points class for no box drag bikes and street bikes on these 10 race dates.
Our Street bike series will see an expansion to 6 race dates for 2013, these will be 2 day events making the schedule better for those traveling from a distance. These race dates will feature a bracket class, 6.10 index for street bikes, 5.80 index for any bike, a 7.00 index class (new for 2013) a trophy bike class, open test and tune, and a pit vehicle race on the Saturday of each weekend.
Our all motorcycle event Motorcycle Mania will be a 2 day event for 2013 on July 20 & 21. All of the above classe will run that weekend plus we will have a 5.50 index class open to any bike, and the return of the vintage drag bikes! This event will again host the motorcycle charity ride to the track for the Wounded Warrior Project. Our plans for this event is to build this into one of the biggest all bike events west of the Mississippi river!
All details about the bike programs can be found on the website sidebar about motorcycle racing. Please thank and most of all support whenever possible the following companies who are supporting the bike classes at ERP: R/ J Performance in Ottumwa Ia., Certified Auto Sales in Des Moines, Fenders Cycle in Des Moines, and Metro Suzuki- Can Am in Cedar Rapids Iowa.
---
2013 Junior Dragster Program Finalized
For 2013 we are going to run 2 classes on our points race dates. Each class will have a separate consi class. The new novice class is all about having fun and getting experience. We will have a free reaction time contest when time permits and a special run off of the 2 class winners and 2 consi class winners to have a Top Jr Champion at each event who will receive a special trophy and $50. For complete details please check the Junior Dragster Program link on the sidebar or Click Here.
Thanks to TrickTools.com and Laffoon and Co. for making this program possible.
Check the link on the sidebar also for the details on our Junior Dragster special on June 15 and 16. This will be run with other car and bike classes. The Halloween Nationals return in October for Junior Dragsters only !
---
Attention Stick Shift Racers
Eddyville Raceway Park is very happy to announce the details of the Casey`s Stick Shift class schedule for 2013. We have expanded the schedule to 7 events for 2013. New this year is a 2 day race on Memorial Day weekend and the winner on Labor Day weekend will take home an NHRA Wally as part of our National Dragster Challenge Race.
Thanks to the support of Casey`s General Stores and many associate sponsors we will continue to offer one of the best payouts and points funds for a local class anywhere. Details are on the sidebar `Casey`s Stick Shift Class`
---
IOWA TRUE 10.5" TIRE CHALLENGE RETURNS THANKS TO QUICK PERFORMANCE
The popular Iowa True 10.5" Tire Challenge class will return to Eddyville Raceway Park and Cedar Falls Raceway with the support of Quick Performance. The race series will be made up of six events in 2013.
"We are thankful that we have the support of Quick Performance for this Series, said Eddyville Raceway Park's Gerald Kramer, with a small class it's vital to have them aboard."
2013 Race Dates
ERP: May 25, June 29, Sept.21.
CFR: June 1, Aug. 3, Sept. 7
Entry Fee: $60 for car/driver
Payouts: (based on number of entries)
4 or less cars, 80% of entry fees
5-8 entries Winner $500, R.U. $250
9-12 entries Winner $600, R.U. $300, Semis $100
13-16 entries Winner $700, R.U. $350, Semis $100
17-up entries Winner $800, R.U. $400, Semis $150, 1/4s $75
---
Attention Super Street Class racers (6.90 index)
The Super Street class will have 7 race dates at ERP for 2013, Sat. May 18, Sat./Sun. June 15,16, Sat. /Sun. Aug. 17,18, Sat. / Sun. Sept. 27,28.
This class is open to any door car or left hand steer roadsters with no weight limits. Call Gerald with any questions at 641-780-3534 or email him at manager@eddyvilleraceway.com.
---
Attention Top Sportsman / Top Dragster Racers:
Thanks to Advance Transmission in Knoxville Ia. this series will be run on 7 dates this year with October 13 being a rain date if any of the 7 scheduled races are canceled due to weather. The rules and payouts remain the same as in the past as will the season ending points fund. Final points will be the best 6 of the 7 races run. In addition to the support of Advance Transmission these classes have 3 associate sponsors that help make this program possible: Driskell Racing Engines in Wellsville Ks., Easter Equipment in Des Moines Ia., and J & B Race Cars of Lynnville Ia. Remember to always try to support these and all sponsors of Eddyviille Raceway Park whenever possible !
---
Modified and Modified Jr
Race Schedule for 2013
After receiving input from racers we have scheduled the Modified and Modified Jr classes on 5 dates for 2013. We have scheduled these races around our stick shift class dates as well as those of the OMSS as many of those racers also run the Modified class. For this year we have decided to use the same rules we have used in the past. To keep this class going we need your help by supporting it by running the races whenever possible, letting others that might be interested in running it know about it, and help us find sponsor support for it.
Please contact Gerald at manager@eddyvilleraceway.com or call him @ 641-780-3534 for any info about possible sponsor support. The purse structure will be announced when we know how much sponsorship we can find. The classes will run on the following dates: May 18 (Saturday) June 29 (Saturday) Aug. 18 (Sunday) Sept. 1 (Sunday) Oct. 13 (Sunday)
---
ATTENTION: JUNIOR DRAGSTER RACERS
Edddyville Raceway Park is considering the following changes to our Junior Dragster program on points race dates for 2013. Please read the following information carefully and send your feedback to Gerald asap to manager@eddyvilleraceway.com or call him at 641-780-3534.
Novice Class
This would be for all 8 and 9 year-olds, and those 10 and up with 1 year or less experience Junior Dragster racing at the start of the season. This class would be about learning and having fun and might not be a points class to reduce the pressure on the kids and enable them to just have fun !! This class would have it's own consi race for 1st round non winners.
Advanced Class
This is for those 10 years-old and up with at least one year of Jr racing at the start of the season. This would be a points class and have it`s own consi race for 1st round non winners.
There would be a run off at the end of the day between the the two class winners (novice and advanced) and each consi winners The final round of the run-off would be the two winners making it two rounds of racing to determine the overall winner for the day. (No points for run off rounds)
We are looking at trophies for each class winner and consi winner, plus special trophy for overall winner. Also cash payout to Advanced class winner and overall winner.
Let us know your thoughts and also looking for a special title for the run off winner.
---
2013 Auxiliary Pit Vehicle Registration Program
The NHRA West Central Division 5 has chosen to continue the pit vehicle registration program initiated in 2011. The serialized pit vehicle decals will be accepted at all NHRA Member Tracks throughout Division 5. Each individual will be required to register all motorized vehicles (not currently licensed through a state department of motor vehicles) with one of the division member tracks. The Division 5 sticker will also be accepted throughout Division 4 and Division 1 (D1 also requires proof of current insurance).
If you are in need of insurance for your pit vehicle(s) please contact us for more information about a program NHRA has initiated this year. Insurance can be provided for a $50 annual fee (Jan-Dec) you can have coverage for your pit vehicle at all NHRA Member Tracks & sanctioned events for the current season.
More information to come soon on the new insurance program visit www.nhradiv1.com
The registration process is listed below for your understanding. Also below is a PDF of the 2013 Registration Form.
Pit Vehicle Registration Process:
Competitor must read and complete page one of the 2013 Pit Vehicle Registration Form, accepting all of the rules and regulations set forth.
Competitor keeps page two of the 2013 Pit Vehicle Registration Form, "Raceway Auxiliary Pit Vehicle Rules."
Competitor submits the completed registration form and pays the $10 registration fee to an NHRA Division 5 Member Track.
Track keeps page one of the 2013 Pit Vehicle Registration Form, and issues a serialized sticker, then completes the serial number section on page one.
One form must be completed for EACH vehicle being registered. (One sticker/serial number per vehicle)
2013 NHRA Division 5 Pit Vehicle Registration Form
---
ATTENTION ALL JUNIOR DRAGSTER RACERS
We have adjusted our Junior points race schedule at Eddyville Raceway Park so as to not conflict with the announcement of the dates for the Junior Dragster Western Conference Finals in Denver, CO and the Division 5 Junior Dragster event at Mid America Motorplex in Pacific Junction Iowa. The Jr class will not be run at ERP on June 29 (WCF) or on July 27 (Div.5 race). I would highly encourage our Junior racers to support these events. The experience of the Nationals in Denver is something all Junior racers should have. I would recommend working together with other Junior Dragster racers to make attending the Nationals as affordable as possible by combining race cars into several trailers rather than all racers hauling their own.

We are also still looking for some feedback on ideas you might have for changes to our Junior Dragster program to help build participation at ERP. I believe the announcement from NHRA about the new Junior engine is a step in the right direction but more things can be done. Please call me (Gerald) at 641-780-3534 or email me at manager@eddyvilleraceway.com. I also want to thank TrickTools.com for again sponsoring the class and to Laffoon and Company for their continued support of the class with the Reaction Time contest and more.

ERP will have a special Junior event on June 15 and 16, and will be called the Junior Dragster Hawkeye Nationals. This will be a race that will include big cars and our Street Bike series. On Saturday we will have 4-age groups with the winners of each class winning a NHRA Jr Dragster Challenge Wally. We will have a run off of the 4-age group winners for a very special award TBA. Saturday we will also have a pit vehicle race at the end of the day. On Sunday we will have a bracket class and 3 index classes. Then on October 4,5,& 6 the annual Junior Dragster Halloween Nationals return to Eddyville for 3 days of Junior only racing.
---
CHRIS DUNCAN RACE CARS PRO MOD SUPER SERIES
2013 SCHEDULE ANNOUNCED
The Chris Duncan Race Cars Pro Mod Super Series is alive and well for the 2013 season with five race dates booked as of February 1, 2013. "We are excited to have a great series with several dates as we continue to explore more options" said Director Sam Martin.

The Chris Duncan Race Cars points season gets underway on Friday and Saturday, May 24 & 25 at Eddyville Raceway Park (Oskaloosa, IA). Defending series Champion Eddie Rogers will be back in his beautiful supercharged Corvette but will have stiff competition from 2012 Series runner-up Monte Grace in his Curry's Transportation Services entry.

For more information contact Sam Martin at 636-288-6285

Chris Duncan Race Cars Pro-Mod Super Series 2013 Schedule
Fri/Sat, May 24 & 25 - Eddyville Raceway Park, Oskaloosa, IA
Fri/Sat, June 7 & 8 - Cordova Dragway Park, Cordova, IL
Fri/Sat, July 19 & 20 - Cedar Falls Raceway, Cedar Falls, IA
Fri/Sat, Aug 23 & 24 - Cordova Dragway Park, Cordova, IL (60th World Series of Drag Racing)
Fri/Sat, Sept 20 & 21 - Eddyville Raceway Park, Oskaloosa, IA
---
New West Central Super Quick Series
Sponsored by Ignite High Performance Ethanol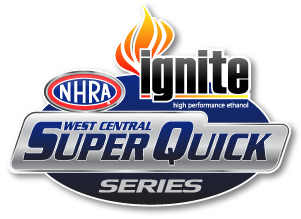 The NHRA West Central Division has announced the formation of a new Super Quick Series in 2013 to be sponsored by Ignite High Performance Ethanol. The series will consist of dragsters and fast doorcars competing in separate ladders before running off in a final to determine the overall Ignite High Performance Ethanol Series Super Quick winner.
Ignite is a family of high performance Ethanols engineered for high performance racing applications. Ignite is 100% American and green. It also allows your engine to run smoother, with additional power, increased torque, acceleration, and at a lower cost. Ignite is not E-85, but a series of ethanol racing fuels designed for various engine combinations and fuel/air delivery systems. More information about Ignite can be found at www.IgniteRacingFuel.com.
The Ignite High Performance Ethanol Super Quick Series will be contested as 2 day events with separate qualifying and eliminations for points each day. The Series will be run at select National Open events as well as a stand-alone series. In addition to craowning an overall Ignite High Performance Ethanol Series Super Quick Championship tracks will be broken up into 3 smaller Circuits where racers can compete for a championship as well. Events in Kansas will make up the Southern Circuit, Iowa's events will make up the Eastern Circuit, and events in Nebraska and South Dakota will make up the Northwestern Circuit.
Ignite High Performance Ethanol Super Quick Series Schedule
Southern Circuit

SRCA Dragstrip

Great Bend, KS

April 27

SRCA Dragstrip

Great Bend, KS

April 28

Heartland Park Topeka

Topeka, KS

June 8

Heartland Park Topeka

Topeka, KS

June 9

Kansas Int'l Dragway

Wichita, KS

October 19

Kansas Int'l Dragway

Wichita, KS

October 20
Eastern Circuit

Eddyville Raceway Park

Eddyville, IA

May 25

Eddyville Raceway Park

Eddyville, IA

May 26

Cedar Falls Raceway

Cedar Falls, IA

August 10

Cedar Falls Raceway

Cedar Falls, IA

August 11

Tri-State Raceway

Earlville, IA

Aug 31

Tri-State Raceway

Earlville, IA

Sep 1
Northwestern Circuit

Kearney Raceway Park

Kearney, NE

July 6

Kearney Raceway Park

Kearney, NE

July 7

Oahe Speedway

Pierre, SD

September 21

Oahe Speedway

Pierre, SD

September 22

Kearney Raceway Park

Kearney, NE

October 12

Kearney Raceway Park

Kearney, NE

October 13
Each points race in a circuit will count towards the respective circuits championship. Each Circuit Champion will be awarded a Wally. The best 10 points finishes will count towards the racers total for the overall Ignite High Performance Ethanol Series Super Quick Championship. The Ignite High Performance Ethanol Series Super Quick Champion will receive a year-end bonus check for $2,000, a Championship Wally, and a Super Quick Series Champion Jacket. Second place receives check for $1,000 and the third place finisher a $500 check.
Complete series rules, entry, and payout info here.
---
EDDYVILLE ANNOUNCES MOTORCYCLE
SCHEDULE & PROGRAMS FOR 2013
Eddyville Raceway Park is proud to announce the schedule for it`s motorcycle drag racing programs for 2013!
Headlining this year`s motorcycle racing events, is Motorcycle Mania, this 2-day event on July 20 & 21 is one to plan on. The event will include a charity ride for the Wounded Warrior Project on Saturday with vendors, bands, and much more at the Dragway! Also we will have awesome vintage single and twin engine Top Fuel Bikes from around the country making exhibition runs. There will be two days of racing in the following sportsman classes: Pro Bike, No-box Drag Bike/Street Bike combo bracket, Street Bike only bracket, plus 7.00 and 6.10 index classes for street bikes. In addition classes of 5.80 and 5.50 index will be open for any bike, a trophy street bike bracket and pit bike class (Saturday evening only).  Our goal with this event is to be the largest motorcycle drag racing event in the Midwest. More details coming!
We will have four additional 2-day races for our Pro Bike class and will have separate class for no box/street bikes on these dates. The dates for these 2 classes are: May 25, 26, July 6, 7, Aug. 31, Sept. 1, Sept. 21, 22. Our goal with this schedule was to try to avoid conflicts with other bike events as best we could.
We have scheduled two other 2-day weekends for our street bike classes which will include a trophy class, bracket class, 7.00, 6.10, and 5.80 index classes plus pit bike races on Saturday evenings. The dates for these are June 15, 16, and Sept. 28, 29. On the September date we will do a gamblers event for drag bikes.
Payouts will be announced as we finalize our sponsor list. Please contact Gerald at manager@eddyvilleraceway.com or call him with any sponsorship ideas or contacts.
At this time the following companies have committed to sponsor the bike classes. Please remember to support these companies whenever possible!
R/J Performance Ottumwa Iowa (Victory, Polaris, Yamaha, KTM, & more)
Fenders Cycle Des Moines Iowa (used bikes, scooters, accessories, & more)
Metro Suzuki Can Am Cedar Rapids Iowa (new & used bikes and much more)
Certified Auto Sales Des Moines (used cars)
As we did last year we will have a fast 4 heads up class for bikes at our Midnight Madness events (6 dates) and bikes can run with our car classes at some non points races. Dates TBA.
---
NHRA ANNOUCES NEW ENGINE PROGRAM
FOR JR. DRAG RACING LEAGUE

GLENDORA, Calif. -- NHRA officials announced today a new engine program for the NHRA Summit Racing Jr. Drag Racing League with the acceptance of the Briggs & Stratton 206 engine beginning in 2013.
The accepted 206 crate engine must be factory sealed and is approved for all NHRA age groups: 8-9 year old class (12.90-seconds & slower), 10-12 year old (8.90 & slower) and 13-17 year old class (7.90 & slower). No alterations or modifications are permitted except for installation of exhaust header and air filter.
"We could not be more excited to announce this new program and renewed relationship with Briggs & Stratton" expressed Josh Peterson, NHRA V.P. Racing Administration. "The program will greatly reduce the entry level costs for families to get involved in the sport and stimulate the growth of the NHRA Summit Jr. Drag Racing League.
Briggs & Stratton launched the 206 crate engine program in 2008 to give racers an out-of-the-box (simple), cost-effective, performance solution. Building from the proven reliability of the Animal racing engine, the 206 crate engine maintains a level playing field by isolating the performance variables commonly found in standard, mainstream manufacturing. Each 206 crate engine is hand-built in a dedicate facility to exacting standards and measured against a factory developed rule set. The end-result is a performance racing engine with the proven repeatability that has led to four years of world-wide wins at the highest levels of racing right out of the box.

"We are incredibly excited to once again have the opportunity to work with the NHRA and their Jr. Drag Racing League" said David Klaus, director-Briggs & Stratton Racing. "As one of the original founding partners we were able to help be a part of the growth of the league as well as get to know the racing families involved. This sport makes great racers but it also helps make family memories. That is something that Briggs & Stratton Racing loves to be a part of and we look forward to the future."
"NHRA's acceptance of the 206 crate engine is a great opportunity for us to support the league with a new option for cost-effective racing," continued Klaus. "Families now have another cost-effective option to help build memories that will last a lifetime."
For more information and availability of the 206 Engine (part # 124332 8201-01) please visit www.BriggsRacing.com.
Headquartered in Glendora, Calif., NHRA is the primary sanctioning body for the sport of drag racing in the United States. NHRA presents 24 national events featuring the NHRA Mello Yello Drag Racing Series, NHRA Lucas Oil Drag Racing Series and NHRA Pro Mod Drag Racing Series. NHRA provides competition opportunities for drivers of all levels in the NHRA Summit Racing Series and the NHRA Drags: Street Legal Style presented by AAA. NHRA also offers the Summit Racing Jr. Drag Racing League for youth ages 8 to 17. In addition, NHRA owns and operates five racing facilities: Atlanta Dragway in Georgia; Auto-Plus Raceway at Gainesville in Florida; National Trail Raceway in Ohio; Lucas Oil Raceway at Indianapolis; and Auto Club Raceway at Pomona in Southern California. For more information, log on to NHRA.com, or visit the official NHRA pages on Facebook, YouTube and Twitter.
---
2013 MAJOR EVENT DATES RELEASED
Now that the calendar has moved into 2013, we are releasing the major event dates for the season at ERP. Please remember at this point these dates and classes are subject to change.
May 25 & 26
Doorslammer Shootout
Classes: (Sat. Only) Chris Duncan Pro Mod Super Series, Super Stock Mafia, Iowa True 10.5 class, (Classes run on Sat. & Sun.) NHRA Super Quick Series, Casey's Stick Shifters, Pro Bike, S/P, Pro, Sportsman, Jr Dragster, Trophy Car, (Big Bucks race for S/P, Pro, & Sportsman)
Rain date for Sat. classes is Sun.
June 15 & 16
NHRA King of the Track & Jr Dragster Challenge
Winners of S/P, Pro, and Sportsman run off for an NHRA Wally on Saturday, Jr Dragsters run for NHRA Wallys on Sat., Non points bracket classes on Sun., Special Jr classes on Sunday (index and bracket) Super Street (6.90 index) Sat. & Sun., Street bike bracket and 6.10 index classes (Sat. & Sun.)
July 6 & 7
Night of Fire
Classes: (Sat. Only) Nostalgia Nitro F/C, F/A, OMSS, Jets, Wheelstander, (Sat. & Sun.) T/S T/D,  Pro Bike, S/P, Pro, Sportsman, Jr Dragsters, Trophy Car, (Big Bucks race for S/P, Pro, & Sportsman) rain date July 7 for Pro Cars.(Sun. only: Casey`s Stick Shifters)
July 20 & 21
Motorcycle Mania
2 days of motorcycle racing. Pro Bike bracket class, Street bike bracket class, Index classes, Vintage drag bikes
July 27
Rick Reese Memorial
Special trophies for winners of regular points class
August 16-18
World Fuel Altered Nationals
Classes:  (Sat. Only) F/A, Casey's Stick Shifters, Nostalgia Gassers, Nostalgia Drag classes, (Sat. & Sun.)  T/S T/D series, Super Street, S/P, Pro, Sportsman, Jr Dragster, Trophy Car, (Big Buck race for S/P, Pro, & Sportsman) rain date Aug.18 for F/A`s.& Gassers.
Aug 31 - Sept 1
Labor Day Weekend Big Bucks & NHRA National Dragster Challenge
Classes (Sat. & Sun.) , Pro Bikes, S/P, Pro, Sportsman, Trophy Car, Jr Dragster  (Wally`s for winners of S/P, Pro, Pro Bike, Sportsman, on Sat.),
Sept 20-22
Fall Door Car Shootout; Featuring Chris Duncan Race Cars Pro-Mod Series
(Friday and Saturday only) 2nd Pro Mod race of the season at ERP and Iowa True 10.5 class (Sat. & Sun.)  Finale points races of the season for our regular classes, Super Street (6.90 index class) T/S T/D series, Pro Bike series
Oct 4-6
Junior Dragster Halloween Nationals
Oct 12 & 13
Fall Bracket Classic
Classes: (Sat. & Sun.)Big Buck Combo, no box low roller, T/S T/D  (Sat. Only) ERP Stick Shifters