---
Banquet Deadline Fast Approaching
Time is running out to send your ERP banquet reservation in. We need them in the mail by Feb. 28, if not in the mail by then please call Gerald @ 641-780-3534 or email him at manager@eddyvilleraceway.com
---
New Sponsor @ ERP
Lakeside Hotel Casino in Osceola is the new Title Rights sponsor of our Top ET class. This is their first involvement with the track and with their support we will be able to increase the year end payouts to the top ten points earners in this class. You can find a link to their website on the front page of our website. Be sure to thank them for their support whenever you go there for your entertainment and lodging.
"Lakeside Hotel Casino is very excited to present this season of racing at Eddyville Raceway Park! We at Lakeside couldn't think of a better way to spend a hot summer weekend than exhilarating car racing followed by some exciting casino action. Lakeside offers some of Iowa's newest and best slots, loosest tables, and finest amenities for a day trip or an overnight stay."
Lakeside is located just south of Des Moines at exit 34 off of Interstate 35 in Osceola. Stop in and see us after the races and let the action continue!
---
New Title Rights Sponsor for WFAN
We would like to welcome S.E. Iowa NAPA as the Title Rights sponsor of the World Fuel Altered Nationals. They were an associate sponsor of this event last year and inspite of the terrible weather we had saw value in supporting this great event. They have stores in Sigourney, Williamsburg, and Centerville. If you are in any of these areas support them whenever possible and thank them for their support. They have also given us some really great door prizes to give away at our banquet March 7
---
Eddyville Raceway Park 50th anniversary season schedule announced
Eddyville Raceway Park is celebrating its 50th anniversary with its busiest race schedule ever. Track owner Gerald Kramer says our business is to provide a place for racers and fans to enjoy the sport of drag racing and this year we have more special events and classes in the 50 year history of the track.
For 2015 the track is offering some bold new events for many diverse drag racing interests along with continuing with many events that we have run for a long time. 2015 will have traditional big bracket race events on Memorial Day and Labor Day weekends, an event for nostalgia racers with the Midwest Nostalgia Nationals in June, the biggest Musco Lighting Night of Fire ever on July 4, a brand new exciting event in late July that will combine a motorcycle event that will include T/F Harleys with a Door Car Shootout that will feature some exciting heads up door cars, a special big buck event for Top ET, the 10th annual World Fuel Altered Nationals in Aug. and an IHRA national event for the Jr Dragsters in Oct.
The track will also have in addition to the regular bracket classes, many special classes to fit some special interest classes. Our Top Sportsman/Top Dragster class returns for 8 races, we have a crazy new class called Midwest Pro Outlaw Eliminator that will run 4 times in 2015, as will the heads up 10.5 tire class. We have added a new heads up class for radical street cars, and 5 new heads up index classes for no box cars. For the cars with delay boxes we have the Hot Rod class returning with 8 race dates and have added 2 events for Super Rod & Quick Rod. The track will also offer a couple of entry level classes with the IHRA program called Teen Championship Racing, and the high school class.
You can see we have scheduled a lot of exciting things to celebrate our anniversary, so buckle up and enjoy the upcoming season!
Click Here for Early Season Schedule
---
2015 Special Event Dates and Classes
Memorial Day Weekend Bracket Bash, May 22-24 (early start)
Classes: ( Sat. Only) Midwest Pro Outlaw Eliminator ERP Stick Shift class, Quick Performance Iowa True 10.5 class, (Classes run on Sat. & Sun.) Advance Transmission T/S T/D, Big $ in Top, & Mod. ET, Street, Jr Dragster, Hot Rod (6.90 index) rain date for Sat. classes is Sun.
Midwest Nostalgia Nationals, June 12 & 13 (early start)
Featuring Fuel Altered, Nostalgia A/F dragster, Nostalgia Alcohol F/C Match races. 50th anniversary reunion event honoring past racers.
Sportsman Classes: Nostalgia Super Stock Association, Nostalgia Gasser Association, Money bracket classes(3) Quick 16, 6.99 and quicker, 7.00 and slower. Trophy classes (3) 48 and older, 49-59, & 60-75.
Car show, Swap Meet, Cruise
ERP`s 50th Anniversary Iron Man Classic June 27 (rain date June 28)
Winners of Top, Modified, Street ET, and Jr Dragster Advanced classes will receive an IHRA Iron Man trophy. Pro Outlaw, Street Car Shootout , and pit vehicle races on Sat. Super Rod and Quick Rod on Sat. & Sun.
Musco Lighting Night of Fire July 3,4, & 5. (early start)
Classes: (Sat. Only) Nostalgia Nitro F/C, T/F, F/A,, Jets, Wheelstanders, OMSS, & Iowa True 10.5, (Sat. & Sun.) Advance Transmission T/S T/D, Top, & Modified, classes (big buck races) Street ET,Jr Dragsters, Hot Rod, (rain date July 5 for Pro Cars). (Sun. only: ERP Stick Shifters)
Rick Reese Memorial Race July 18
Special trophies for winners of regular points classes.Powder Puff &Pit vehicle races Sat.
Special event to be announced, July 24 & 25 (rain date July 26)
Big Buck Top ET race, Aug. 8 & 9 (Entry and Payout info TBA)
Points for Top, Mod, Street, & Jrs both days, Pro Outlaw, ERP Stick, & pit vehicle races on Sat. Hot Rod on both days.
World Fuel Altered Nationals Aug. 21-23 (early start)
Classes: (Sat. Only) F/A, Eddyville Stick Shifters, Nostalgia Gassers, (Saturday and Sunday): Nostalgia Drag classes, Advance Transmission T/S T/D series, Hot Rod (6.90 index),Street ET & Jr Dragster, (Big Buck race for Top, & Modified, classes) rain date Aug.18 for F/A`s.& Gassers.
Labor Day Weekend Big Bucks Sept. 4-6 (early start)
Classes (Sat. & Sun.) ,Midwest Pro Outlaw Eliminator, Advance Transmission Top Sportsman/Top Dragster, Top,& Modified, classes (Big Bucks),Street ET, Jr Dragster, Quick Performance Iowa True 10.5 classes run on Sat. only
R/J Performance Fun Day, Sept. 27
Car show, Open test and tune , free admission to all
IHRA Goalsetter Jr Dragster Halloween Nationals Oct. 16-18
Jr Dragster only event all 3 days. Details TBA
Saturday Fun Drags, May 9, May 30, July 11, Aug. 15, Sept. 12 & 26, Oct. 3
Non points races with open time trials, several bracket gambler classes, and on some dates some heads up index classes.
Midnight Madness, May 8 (Fri.) May 30 (Sat.) June 19 (Fri.) July 11 (Sat.) July 31 (Fri.) Aug. 28 (Fri.) Sept. 12 (Sat.)
Heads up grudge racing with scoreboards off, instant green starts for street legal cars and bikes. Friday events start at 10pm and go to 1am, Saturday events start at 9pm and go to midnight. Will also have several Fast 4 classes and a burnout contest.

---
Special Classes Schedule Announced
As part of our 50th anniversary Eddyville Raceway Park is proud to announce its special classes and their dates for 2015. These are classes that will run a limited schedule.
We have several that are brand new for 2015 including the bold new class called: Midwest Pro Outlaw Eliminator. This is a heads up class for some of the badest cars around and has very few rules other than a 4.00 index on the 1/8th mile! This class will be run on a limited Chicago style elimination format. This class is open to any style car with any kind of power adder. This class will run on May 23, June 27, Aug. 8, and Sept. 5. This should be fun!
Another new heads up class for 2015 will be the Street Car Challenge. This class will be for street legal (license, registration, insurance card, mufflers etc.) cars with any power adder and street legal tires. (any size) Dates for this class: May 16, June 6, June 27, July 25, Sept. 5, & Oct. 3.
Some index classes have been added to our schedule with 5 classes for no box cars to run on May 9, Aug. 15, Sept. 26, & Oct. 3. We also are running one 2 day weekend for Super Rod (S/G)(6.30 index) and Quick Rod (S/C)(5.70 index) on June 27 & 28. As we have did last year we will run Hot Rod (6.90) (S/ST) on four 2 day events, May 23-24, July 4-5, Aug. 8-9,  & Aug. 22-23.
As a throwback to years past we will have a return of the Powder Puff class with 4 dates for 2015, May 16, June 20, July 18, & Aug. 1.
On some of our 2 day events we will have pit vehicle races on Sat. at the end of eliminations, time permitting. These will be on the 330 and having fun is mandatory! Dates for these are: May 23, June 6, 27, July 18, Aug.8, and Sept. 5.
The Advance Transmission T/S T/D Challenge will return with four 2 day races. This is a points class and will run on May 23-24, July 4-5, Aug. 22-23, Sept. 5-6.
The Eddyville Stick Shift class returns with dates on May 23, July 5, Aug. 8 & 22, & Oct. 3. This is a points series that has run a long time at Eddyville.
The Quick Performance Iowa True 10.5 class will be back with four dates including our biggest event the Musco Lighting Night of Fire on July 4. Other dates will be May 23, July 25, & Sept. 5.
We have two classes for the younger racers, our high school class will run on June 5, 19, 26, July 17, 31, Aug. 7, & 14. The other class is called Teen Championship Racing and is done with a parent in a street car. This class will run on May 23, June 6, 27, July 18, Aug. 8, & Sept. 5.
Details on all of these classes will be posted on our website soon and our full schedule will be posted very soon also. 2015 will be a very big year at ERP!
---
Wishing All of Our Racers, Fans, and Sponsors a Very

As we work on plans for our 50th anniversary year of racing in 2015, we also look back on last year. 2014 was a unique year with my taking over sole ownership of ERP and the challenges that went with that, the excitement of doing some major improvements at the track, and the stress of having bad weather on all of our big events. The good news is we all survived these challenges and the racers and fans were very understanding of what we faced and supported us in many ways. We are so very thankful for our racers, fans, and sponsors, without any one of these we would not exist.
As we work on our plans for 2015 I want everyone to know we spend lot of time trying to find out what our racers want and will support, and does it make sense financially for the track. No matter what we decide to do there is no way everyone will be happy with all of our decisions. This fall we posted racer surveys on our website, Facebook, and passed them out at the track. This winter we have spent a lot of time studying them and learning from them. Thanks to those that took the time to fill them out.
---
ERP Track Rentals
Eddyville Raceway Park has days available to rent the facility for many types of usage including the use of the drag strip or for other functions that could make use of the rest of the facility but not the race track. Now is the time to set these up before all of our events are planned. Events using the track in most cases will be on a Friday night, Saturday or Sunday.
If you or a company wants to put on any type of outdoor event that might work at the track or if you would like to be a promoter of some type of race event please contact Gerald to discuss the possibilities. Price to do this will vary widely depending on the type of event you are considering.
Here is a list of some ideas on types of events that could utilize the track and facilities. They include but are certainly not limited to:
Swap Meet
Flee market
Concert
Car Show
Autocross
R/C Car & Plane Events
Special race events for company employees / customers
Special interest drag race event
We also can put together special packages for family reunions, car clubs, or company outings to the race track during any of our scheduled events both regular race days or on our bigger events. If interested in any of these please email Gerald at manager@eddyvilleraceway.com or call him at 641-780-3534.
---
Goldy's Auto Owner Greg Goldizen Passes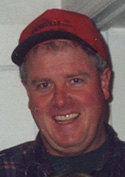 OTTUMWA-Greg L. Goldizen, 50, of 3362 Lake Rd., died at 4:07 p.m. November 20, 2014 at Ottumwa Regional Health Center.
He was born on February 28, 1964 in Ottumwa to Reid V. and Betty L. Melvin Goldizen.
Greg was a 1982 graduate of Ottumwa High School and a graduate of the Indian Hills Community College Diesel Mechanic program. He worked at Alliant Energy Ottumwa Generating Station for 12 years, and owned and operated Goldy's Auto. He was passionate about collecting cars and drag racing.
Surviving is his wife, Stacy Waller; four children, Danielle Goldizen, Michael Mahaffey, Josie Goldizen and Jordyn Goldizen all of Ottumwa; his mother, Betty Goldizen of Ottumwa; his siblings, Becky (Rick) Stoneking of Davenport, Gary (Barbara) Goldizen of Urbandale and Linda (Alan) Bettis of Blakesburg; father-in-law, Larry Waller of Ottumwa.
He was preceded in death by his father, Reid Goldizen; mother-in-law, Betty Lou Waller and grandparents.
Funeral services will be 1 p.m. Monday at Reece Funeral Home with Pastor Mark Eigsti officiating. Burial will be in Shaul Cemetery.
Visitation begins at 10 a.m. Sunday with the family present from 1 to 4 p.m. Sunday.
In lieu of flowers, memorials may be made to the family for his children's education.
---
Planning the 2015 Schedule
This is the time of year we are making plans for the 2015 race season and now is the time we would like to hear from our racers and fans on what they like or don`t like about our schedule, classes, policies etc. It is impossible to make everyone happy but we do take seriously any constructive criticism of what or how we do things at the track. We will always explain why we make decisions that might not agree with you if we are given the chance. You can email us at manager@eddyvilleraceway.com or call Gerald @ 641-780-3534. We often hear rumors that someone is upset with something but unless you let us know of issues we can`t fix it or at least explain our reason behind what we do in a reasonable way. Also, for anyone who hasn't had an opportunity to fill out our Bracket Racer survey there is a link at the top of the page for that as well.
This next season is the track`s 50th year of operation! We will be doing special things all year to celebrate this milestone! Any ideas from our fans and racers on this are also welcome. We are working on a significant nostalgia event for early June that will also be a reunion event for past racers. The Musco Lighting Night of Fire will be on July 4 this year and the World Fuel Altered Nationals will be on Aug. 21-23.
We will have a new limited series for really fast cars called the Super Quick series. This will be a class for Pro Mods, Fuel Altereds, Older Top Alcohol dragsters and funny cars etc. Details are being worked on at this time. This should be a really interesting class and we have a number of racers interested in it.
Other dates of interest coming up are the PRI show in Indy Dec. 11-13, Wild Wades swap meet Jan. 25, ERP awards banquet March 7, IHRA National event at Cordova May 29-30, & the IHRA Div.5 ET Finals Sept. 18-20.
---
Attention Bracket Racers !!!!
We would still like to hear from you and get your opinions on the issues listed on the bracket race survey if you did not get one at the track and get it back to us. We will use the info we recieve from this survey to help plan our 2015 race season. We will reply to you on some issues if you include your contact info. Thanks and have a good off season.
---
Congratulations to all of our 2014 Points Champions
The 2014 race season saw some incredible racing and now that our season has ended we want to recognize our champions. They will all receive their awards at our banquet in Des Moines in March along with all of our other awards. Details on the banquet will be announced later.
Top ET saw the most incredible points race that was decided on the last race of the day on the last points race of the year. Going into the 2 day weekend Gary Smiley was 9th in points but his victory on the last day gave him a 2 point margin of victory over 3 other racers who finished tied for 2nd place. Those tied for 2nd are Rick Livingston, Terry Kruse, and Austin Sharpe. Gary then went on to win the Top ET Race of Champions at the ET Finals in Martin Mi. and will be running for the World Championship at the IHRA World Finals in Memphis Tn. the 2nd weekend of October.
Modified ET had runner up Bob Bash finish with 566 points which most years would have been enough to win the class but this year Rob Livingston had what maybe was the best year any racer has had at ERP, finishing with 762 points!!! He then went on to win the ET Finals in Martin Mi. to cap off an incredible year of racing. He also finished in the top 10 in Top ET at ERP. Congrats to Rob and Jill Livingston!
Street ET was won by the team of Tim and Ray Shaw with Tim doing most of the driving. Tim is a rookie driver and he held off a late charge by Ashley Baumert in her S10 pickup. Great job Tim!!
Jr Dragster was won by Chase Van Sant who had a very good last weekend of racing to seal the victory over always tough Logan Carter. Chase also went round at the ET Finals.
Top Sportsman was won by veteran racer Artie Craver by only 9 points over Joe Fell who made a late charge on the last weekend of racing. Artie is proof that this sport is not just for the young guns!
Top Dragster was won by one of the young guns as Austin Sharpe pulled out the win on the last race of the year over defending champion Carl Anderson. Austin had a great year at ERP finishing only 2 points out of 1st in Top ET, proof that Jr Dragsters are a great place to learn in this sport.
The Eddyville Stick Shift class was won by only 1 point with Scott Linder coming out on top over Jim Kliese. Scott is always a contender for this championship as well as the Ozark Mountain Super Shifters.
High School class was won by Joseph Reed from Ottumwa over Brandon Crile from Oskaloosa.
---
Final Race of the Year
Final race of the year at ERP will be this weekend (Oct. 3-5) for Junior Dragsters only. Gates open Friday at 3pm with test and tune at 5pm, and gambler race at 7pm.
Saturday, racers will compete in 4 age groups with the winner of each group receiving an IHRA Ironman Trophy. These 4 winners will then have a run off for the King of the Hill trophy and a Goalsetter adjustable height basketball system valued at over $1400 !!! Saturday Night will feature fun races such as a Turtle Race, and Parent Race plus costume contests for kids, adults, and pets. Trick or Treating will finish up Saturday`s activities.
Sunday will feature 3 index classes, a Quick 16 on the 330, and an All-Run Bracket Race. With a nice forecast for the weekend this should be a must attend event for all Junior racers in the midwest. We will honor all NHRA licenses for this event but IHRA does still require competitors to be 8 years old to compete.
---
Attention Bracket Racers
This weekend Sept. 20 & 21 is the last 2 day bracket race of the year with several special classes including the last 2 races of our Top Sportsman /Top Dragster series, Hot Rod (6.90 index) Street Bike, Pro Bike, and an all run Jr Dragster class.
Next Saturday Sept. 27 we will have the last bracket race of the season as we will have a non points race like we had on Sat. Sept 6 with the gates opening at 11am with time trials at 1pm. This is a change from what was on our season schedule. Friday Sept 26 will be our last Friday Fun Night and Midnight Madness event and Sunday Sept. 28 will be the R/J Performance Fun Day with free admission, a car/bike show and test and tune from 11am-3pm.
---
ET Finals Report
Team ERP traveled to one of the nicest drag strips in the country US 131 Raceway in Martin Michigan with a small team of only 14 racers out of a possible 50, but we proved to everyone we were the little team that could!
On Friday morning the track champions from all of the tracks ran off for the right to advance to the National Championship race in Memphis Tn. in October. Our Top ET champion Gary Smiley in his awesome fast S10 pickup took the victory with a dead on run in the final to get the chance of a life time to win the national championship and the awesome prize package that goes with it! Great job Gary and good luck at the World Finals!
We had some cool and damp weather on Friday and Saturday which limited the gambler races both days with Friday`s ending after one round and Saturday` s after round 3. Saturday afternoon round one was run of the main event was run with 7 racers advancing to Sunday`s round 2.
ERP`s Rob Livingston showed that his dominate performance this year at ERP was no fluke as he won the Modified ET class over another local Cedar Falls racer Steve Decker in an awesome final round with both racers .004 on the tree with Rob on his 9.92 dial in and Steve barely breaking out! Bob Bash made it down to 8 cars and we were hoping to see the Rob and Bob show in the final but he came up just a little short.
Then ERP`s Brad Smiley joined his father as a winner at the event by winning Top ET with a series of great dead on runs. Brad who like his dad had a great weekend at ERP on Labor day weekend and finished 6th in points only 13 points out of 1st place and had it going all weekend as he was still in Saturday`s gambler race when it was called.
Chad Bacon also won the best appearing open wheel car award on Saturday. Everyone that went had a great time and look forward to next year's event, hopefully we will bring a lot more racers and show these other tracks how tough our ERP racers are and contend for the track championship as well as individual championships.
---
Details Announced for September Race Dates
Friday, September 5 - Open at 5.30pm, open test and tune 6.30-9.30, Midnight Madness 10pm -1am.
Saturday, September 6 - Non Points Race, Gates open at 1.30pm time trials (3) @ 3pm
Classes:
Top ET - Entry fee $75, Buy Backs $50, Payouts ( with 20 car minimum), Winner $1000, Runner Up $400, Semis $150, 1/4 `s $75
Modified - Eentry fee $55, Buy Backs $35, Payouts  (with 20 car minimum) Winner $500, Runner up $250, Semis $100, 1/4 `s $50
Street - Entry fee $35, Buy Backs $20, Payouts (with 10 car minimum)  Winner $200, Runner Up $100, Semis $50
Jr Dragster All Run - Entry fee $20, Buy Backs $10, Trophy to winner and runner up, over 8 entries $50 to winner, $25 to runner up
Karl Performance Pure Street Trophy Car - Entry fee $25, Buy Backs $10, Trophy to winner and runner up.
Test and Tune - Open to anyone, Entry fee $25
Friday September 19 - Open @ 5pm, test and tune 6pm-9pm.
Saturday, September 20 - Open @ 9am, time trials @ 11am
Sunday September 21 - Open @ 8am, time trials @ 9.30am
Classes run both days: Top, Modified, and Street Et with regular big bucks entry fees& payouts,Top Sportsman/ Top Dragster (last 2 points races) All run Jr Dragster class, Hot Rod (6.90 index) Pro Bike and Street Bike classes
Friday September 26 - Open @ 5.30pm, open test and tune 6.30-9.30, Midnight Madness  10pm- 1am
Saturday September 27 - All details to be announced soon. (Change from schedule)
Sunday September 28 - R/J Performance Fun Day, Free Admission!!, $20, Open @ 9am. Open test and tune from 11am-3pm. Car, truck, and bike show.
---
Sponsor Updates
ERP would like to thank the following companies for stepping up to be associate sponsors of our regular points classes. All of their sponsorship dollars will go to the points fund for these classes. As with all of our sponsors please support them whenever you can with your business.
Top ET
Baumert`s Garage, Centerville Body Shop, RPM Automotive, Laffoon and Co., Liberty Ready Mix
Modified ET
Baumert`s Garage, Centerville Body Shop, Wymore Automotive, R & R Restoration, Husky Spring Co.
---
2014 Sponsorship Update for Eddyville Raceway Park
We want thank all of the sponsors of the track, they are vital to the success of the track and we urge everyone to support these companies whenever you can. The sponsors of our various race classes both weekly ones and our specialty classes help to raise the payouts for that class, provide a points fund that is paid out to the racers at the awards banquet, or both. Following is a list of supporters of the various classes and some that need some support. If you know of anyone that might be interested in becoming involved as a sponsor for a class either as a major one or an associate sponsor please contact Gerald at manager@eddyvilleraceway.com or at 641-780-3534.
Top Sportsman/Top Dragster
All sponsors are returning for 2014 including long time sponsor Advance Transmission Knoxville Ia. as the title sponsor with associate sponsors Easter Equipment Des Moines Ia. , JB Race Cars Lynnville Ia, and Drisckell Racing Engines  Wellsville Ks.
Pro Bike Class
R/J Performance from Ottumwa continues to support this class. This is a non points class so their support will go to the purse at 8 race dates for this class. More  associate sponsors would help increase the purses.
Eddyville Stick Shifters
This class is supported by these associate sponsors: Chassis Concepts Milan Il., Linder Electric Hedrick Ia., Interstate Battery of Des Moines, Snap on Tool dealers in the Des Moines area Gary Cruse & Steve Small, Dave`s Marine and Sports, Mc Cuen Machine Des Moines, Logan Automotive Des Moines, LaPorte Performance, Hughes Automotive Milan Il, Watters Autoland  Indianola Ia. Don Clark, and Ralph Conner.
Iowa True 10.5 Tire Class
Quick Performance from Ames Ia. continues it`s support of this exciting class and has become the scoreboard sponsor of the right lane and the center `A` board sponsor.
High School Class
Easter Equipment in Des Moines Ia. has stepped up to sponsor this class for 2014  which will let us reward the top points earners in this class properly at the banquet.
Jr Dragster Classes
We welcome back Trick Tools of Pella as title sponsor again and also Laffoon and Co. for their support of the Jr Dragster Reaction Time contest.
Street ET Class (Sportsman)
Goldy`s Auto Sales in Ottumwa Ia. returns as the title sponsor of this weekly class.
Modified ET
For 2014 the 3 associate sponsors of the class return, Wymore Automotive Oskaloosa Ia., R and R Restoration Montezuma Ia. and Husky Spring Co. Des Moines Ia. We would love to add some more associate sponsors to this list which all goes to the points fund for the class.
Top ET
We are looking for a major sponsor of this class or several associate sponsor for it. Sponsorship of this class will all go to the points fund.
Street Bike Class
We are looking for sponsors of this class with it going to increased payouts at the 8 races for this class.
Hot Rod
This is the 6.90 index class that has 8 race dates for 2014. All sponsor dollars will go to increasing the payouts of this class.
---
Karl Performance to Support
3 New Programs for 2014.
New for 2014 will be a program for our weekly bracket racers with the points winners in Top, Modified, and Street ET classes having a run off to be the overall track champion. The winner of this run off will recieve cash, track champion jacket, and a full season gold card for a free season of racing in 2015.
Karl Performance will also support our Midnight Madness events by giving out Karl Performance gift certificates for our Fast Four classes of Front wheel drive, Rear wheel drive, and truck class.
On May 31 there will be a Karl Performance Fun Day. On this day everyone will get into the track at no charge. We will offer test and tune to anyone, and we are working on having a car show and other things to be announced.
You can check out everything that Karl Performance has at www.karlperformance.com or stop into their awesome store located at 5927 NE Industry Drive, Des Moines Ia. 50313. They truly are a one stop store for all of your high performance needs.
---
Details On 2014 Race Schedule
The 2014 Season schedule offers more choices for our bracket racers. We have added 4 more 2 day weekends to our schedule to help reduce the cost of travel to the track especially those that have to make a longer tow. We will drop the 4 lowest points races at the end of the season so for those who don`t want to run more Sundays or those who do not want to come for the one day races can do so and not hurt their chances to chase points. With this schedule we will have at least one weekend a month with no points race and some months with 2 weekends with no points races. On our non points race dates we are still working on details for those dates, watch our website for more details to come. Some will have some racing others may be non racing events.
As in the past we will have several special classes running on select dates. The Advanced Transmission Top Sportsman / Top Dragster series will have 4 (2) day races (8 total with no waived races this year) Quick Performance returns as the sponsor of the very exciting 10.5 tire class which will have 4 races at ERP this year. We will have 4 (2) day races for the 6.90 index class now called `Hot Rod`. The ERP stick shift class will return with either 4 or 5 race dates for this series. As announced earlier the bikes will be allowed to run in the car classes this year but we are also looking at 4 (2) day races that the Pro Bike and Street bike classes have a class just for them. The high school class will run on 8 Friday nights as will a new entry level class called Teen Championship Racing. This IHRA program allows kids with a learners permit or a license to compete with a street legal car 10 seconds and slower with a parent or gaurdian as a passenger. We will have more details on this later. Midnight Madness returns with 6 Friday night events for street legal cars and bikes.
Special events for the year start off with Memorial Day weekend. This weekend will include several of our special classes and we hope to have Pro Mods part of it, however this is not finalized at this time. In June we will have an IHRA Iron Man race when the 3 bracket class winners will get an IHRA Iron Man trophy. The Musco Lighting Night of Fire will return on the weekend of July 4-6 with details to be announced. The awesome World Fuel Altered Nationals will be back for the 9th year on Aug. 15-17 with some more nitro action along with lots of sportsman racing as well. Labor Day weekend will have lots of special sportsman racing and the final big event for bracket racers will be our Fall Bracket Classic this year on Sept. 20-21. Our season will conclude with our Jr Dragster Halloween Nationals Oct. 3-5. This will be a special IHRA event. We are working on details at this time.
Other possibilities that we are working on at this time are car shows, a concert, swap meet, and special events focused on street cars. Details on our special events and classes will be posted on our website and Facebook site as details are finalized. Any questions about the season schedule or any other issue about the track please call Gerald at 641-780-3534 or email him at manager@eddyvilleraceway.com.
---
Weekly Points Classes for 2014
at Eddyville Raceway Park
With the change to IHRA our regular classes will only have minor changes, mainly name changes. ERP will take 50 racers to the IHRA ET Finals in September from these 4 classes. (We will offer the top 2 in our high school class the chance to race in the Street class) Track points champions in Top, Modified, and Jr Dragsters will compete in the race of champions at the ET Finals with the winners advancing to the World Finals at Memphis Tn. for the Summit Super Series National Championship !
Super Pro class will now be Top ET. We will keep the ET breaks  of 7.50 and quicker as that is only slightly different from the ET Finals. Entry fees and payouts will remain the same. Rules are very similar with helmet rules, chassis certs, and license requirements being less restrictive. New for 2014 motorcycles will be allowed to run with the cars and compete for points.  To be in the points and try to go to the ET finals you will have to be an IHRA member and have an IHRA competition license and number.
Pro ET class will now be Modified ET. We will keep our ET breaks at 7.99 and quicker. At the ET finals the ET limits will be 0-13.99 (9.09  1/8th mile). Again all entry fees and payouts will be the same, bikes will be allowed and rule changes are the same as in Top ET. IHRA membership, license issues, and numbers are required.
Sportsman class will now be Street ET. Our ET limits will be the same as for the ET finals, 7.50 & slower. The biggest difference  is we will allow any tire in this class at our races, however if you qualify for the ET finals to run the Street class there, you will be required to run DOT street legal tires, or you can move to the Modified class at the ET finals if you are running slicks. Bikes will be allowed to run this class also for 2014. You will need IHRA membership and competition number.
Jr Dragster will have some rule changes. 8 & 9 year olds are now limited to 11.90 and slower, and 12 year olds can run 7.90 and slower.
Jr Dragsters also can go to the ET Finals in Martin Michigan. IHRA membership,  competition license, and competition number will be required.
---
Motorcycle Drag Race Program
at Eddyville Raceway Park for 2014
To better align ourselves with other race tracks in Iowa and surrounding areas we are going to run motorcycles with the 3 car classes we have on all regular points races. We have resisted doing this for several years but this year all of the other tracks are doing it and they will run with the cars at the ET finals. To qualify for the ET Finals you will have to sign up for points in the regular points classes of Top ET, Modified ET, or Street ET.
We will however still do (4) 2 day race days that will offer a Pro Bike class and a Street Bike bracket class. On these dates you will be able to run the bike classes only or run both if you can return to the lanes quickly.The bike only classes will not be for points! Entry fees and payouts for the bike classes are pending sponsorships of those classes. We will continue to have a fast 4 shootout for street bikes at our midnight madness events and will have some bike classes at the R/J Performance Fun Weekend Sept. 27 & 28 (Details TBA). Tenative dates for the 2 day bike events are: May 24-25, June 21-22, Aug. 30-31, & Sept. 20-22.
Any questions please email Gerald at manager@eddyvilleraceway.com, or call him at 641-780-3534.
---